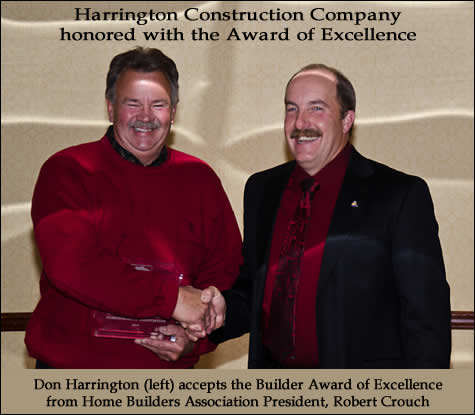 HOME BUILDERS ASSOCIATION AWARD - 2012
"The Hickory & Catawba Valley Homebuilders Association recently awarded their annual Award of Excellence to a builder and associate member. This prestigious award is voted on by the membership for exemplary service to the HBA. Don Harrington of Harrington Construction won the builder award and Jim Grover of TeCCoN won the associate award."
"The Home Builders of Hickory & Catawba Valley is a trade association that consists of building industry professionals striving to fulfill the American dream of home ownership since 1970. A not-for-profit organization, the Home Builders Association provides networking and educational opportunities, sponsors community development initiatives and represents its members in matters of government relations and advocacy." Click to view the Press Release>>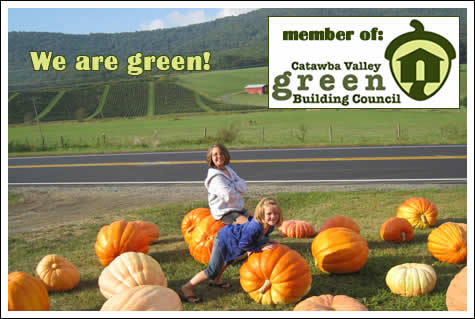 Green remodeling and building means incorporating sustainable, durable and healthy designs into homes. If this is a priority, then look no further. Harrington Construction Company is a Certified Green Professional through the National Association of Homebuilders. This certification is the fist residential green building rating system to receive American National Standards Institute approval. Don Harrington has a solid background in green building methods and can provide you with the best home practice solutions including various ways to increase energy efficiency. With green materials becoming more readily available at more competitive prices, building green is more viable than ever. Ask us how.
Visit the Hickory Builders Association Green Council web site.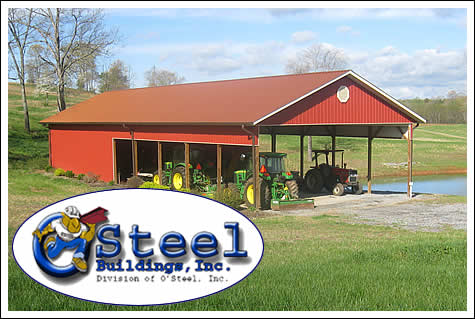 We provide expertise in the construction of pre-engineered metal buildings and are currently a representative for O'Steel Metal Buildings.
Visit the OSteel web site.
WHO ARE WE?
Donald E. Harrington, owner of Harrington Construction Company has been in operation in Alexander and surrounding counties for over 30 years specializing in residential, commercial and institutional construction. Don holds an intermediate North Carolina General Building Contractor's License, is a licensed Real Estate Broker and currently serves on the Board of Directors with the Hickory & Catawba Valley Home Builders Assocation. The employees have donated numerous hours in helping to complete a project home for Habitat For Humanity in Taylorsville.
Harrington Construction Company is a legend in the building industry in Alexander and surrounding counties. The company was originated by A. Harold Harrington, Don's father, who turned the business over to him after his retirement in 1978 and is now deceased. Don began working with his father at a young age during the summer months and while on break from school, learning first hand the skills necessary to build a home and a business. With a degree in Architectural Drafting from CVCC and Civil Engineering from UNCC, Don has the knowledge to not only draw the blueprints for a job, but to scope out areas where there might be changes made in the design of a project that would be more beneficial, economical or desirable to his customers.
"We pride ourselves in doing high quality work and are very proud to say that a majority of our work comes from repeat customers."
The business continues to be a "family affair" as Don and his two sons, Bradley and Mark carry on the day to day operation. Don sees to every aspect of the job personally to insure that his high standards are carried through to the completion of every project. Their skills and depth of knowledge provides every customer with resources in creating a space that reflects their personality and lifestyle. Whether you want to enlarge your home, redesign an existing space or build a custom home, you can depend on us for innovative solutions and guidance through the process. Your peace of mind is important to us as our company is fully insured with worker's compensation as well as general liability insurance.
OUR MISSION
Harrington Construction is committed to offer our clients individualized solutions that are based on their wants, needs AND on their budget. Our primary goal is simple: to provide customer service that consistently exceeds your expectations. We accomplish this the old fashioned way of doing what we say we will do, listening to your concerns, and keeping you informed during all phases of the project.
Our attention to detail provides the high level of quality, craftsmanship and value that defines us. We stand behind our work with an in-house warranty where we take a proactive approach by contacting you at sixty days, six months, and twelve months after the project is complete in order to identify any issues that need to be resolved.
At Harrington Construction, we believe that building or remodeling your home should not be the most stressful event of your life, and our proven process is a testament to that. By providing you with a comprehensive approach, we design your project within your budget while providing you with one single person who is responsible from design through completion. This level of involvement allows us to quote a fixed price cost for your project so you know the true cost before you begin. We hope that you will contact us if we can assist you with your next building project.
Lots available with county water
FREE ESTIMATES
Certified Lead Paint Contractor for Remodeling
We are a member of the following organizations:
Hickory Home Builders Association - web site

Hickory Home Builders Association Green Building Council web site

National Association of Home Builders - web site